Shopping Cart
Your Cart is Empty
Thank you for your business!
You should be receiving an order confirmation from Paypal shortly.
Exit Shopping Cart
Lorchen
Sister of Gracie . Mommy's kitten
<< Lorchen Dec 2014. Getting big and feeling recovered About 14 months old. Got Spayed Dec 2014. All teeth removed for Stomatitis condition Jan 2015.
Mommy was brought to me by the man who fed the cats. She had a baby with her. 2 days later we found her other baby. So she nursed the 2 week old babies and all now running free in my home.
Rescue; The Trailer Park Colony (Sept Oct 2013)
LORCHEN
I had already rescued Mommy and Gracie her baby of about 2 weeks old.
The Story on Mommy and Gracie Rescue
A couple days after I went to the trailer park at around midnight. I had traps set and went to check. It was very dark and quiet. I walked around a bit and walked back to the trailer steps and what did I see , but a tiny baby kitten sitting there at the steps. All alone . No other cat insight. I had no idea what she was doing there with out a mommy around. I picked her up and put her into a carrier. I quickly drove home. I assumed she was Mommy's baby. When I got home I went to put her in with Gracie and Mommy . Mommy looked up at her and before I could even put her to her, she reached up and grabbed Lorchen and pulled her to her chest. I was so amazed by the excitement in Mommy's face . She started to wash her and hold her so tight. I have never seen anything like this. Lorchen was now safe and re-united with her mommy and sister.
I was later to find out that both the babies were developing severe stomatitis. At such an early age there gums were starting to get very red. By age 5 months they were beet red. But they were to be helped and spared a life on the streets in misery and pain.
Lorchen .. as a Kitten. Just too cute and playful with sister Gracie and The Crew, drove some nuts!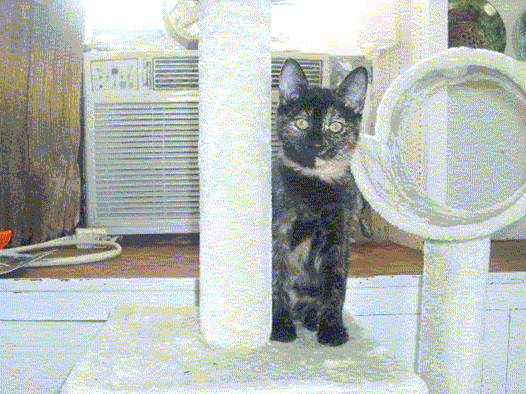 Lorchen ... Play time Dec 2014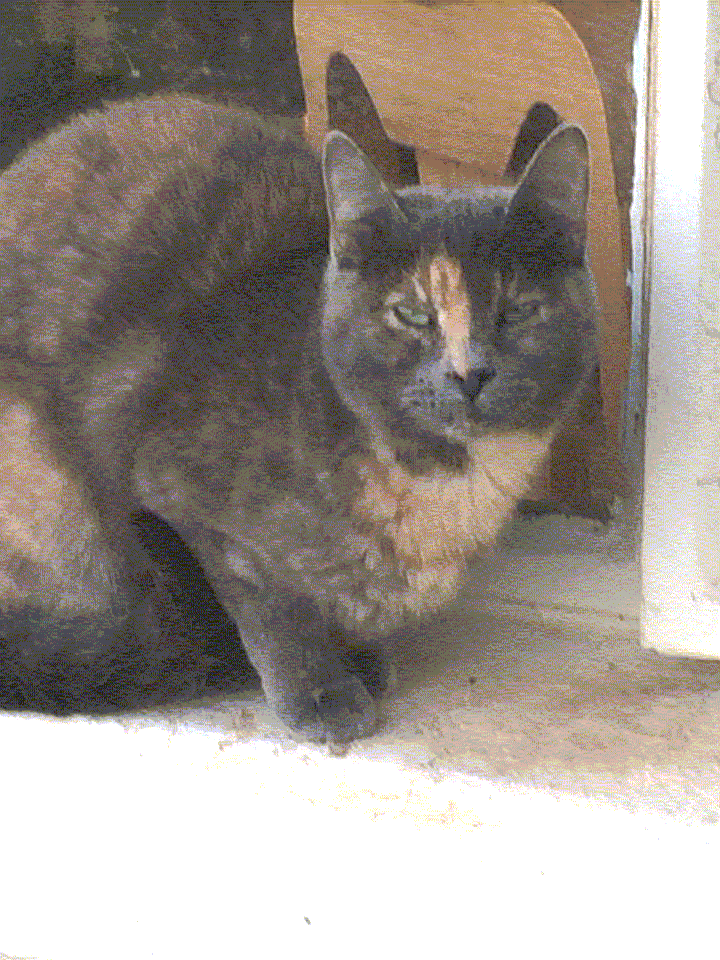 Lorchen ... just coming out for a look in the House Parkland.
Lorchen w sister Gracie, nothing like family.
Lorchen deep in thought , so sweet. Jan15
Lorchen w Garcie at Vet. Lorchen brave, Gracie so scared hiding her head. Lorchen for Stomatitis surgery. Gracie in for her Stomatitis check up ... still showing some condition and not cured. Jan15
Emily saying hello and comforting Lorchen, after Lorchen surgery. Sweet Emily. She is a second mother to them..
Lorchen and Gracie when kittens helped Emily come out of her shell. Jan15
Lorchen with her little tongue out. I guess no teeth to hold it in? Mouth full of stitches. Doing good. Eating a little and on drugs. Lorchens mouth looks a bit sore today. Eating a small amount. Active and alert.
Started her and Gracie on a mix of Raw honey and Slippery Elm once a day. Also 1-TDC. Plus the Interferon Omega. Antibiotics twice a day.Also will look into Curcunin in liq form. Suppse to help also. Im forever giving them something. Got to fix there mouthsJan15

Lorchen, getting better and spunky, wants to play. Good. Jan15
Mommy w. Gracie and Lorchen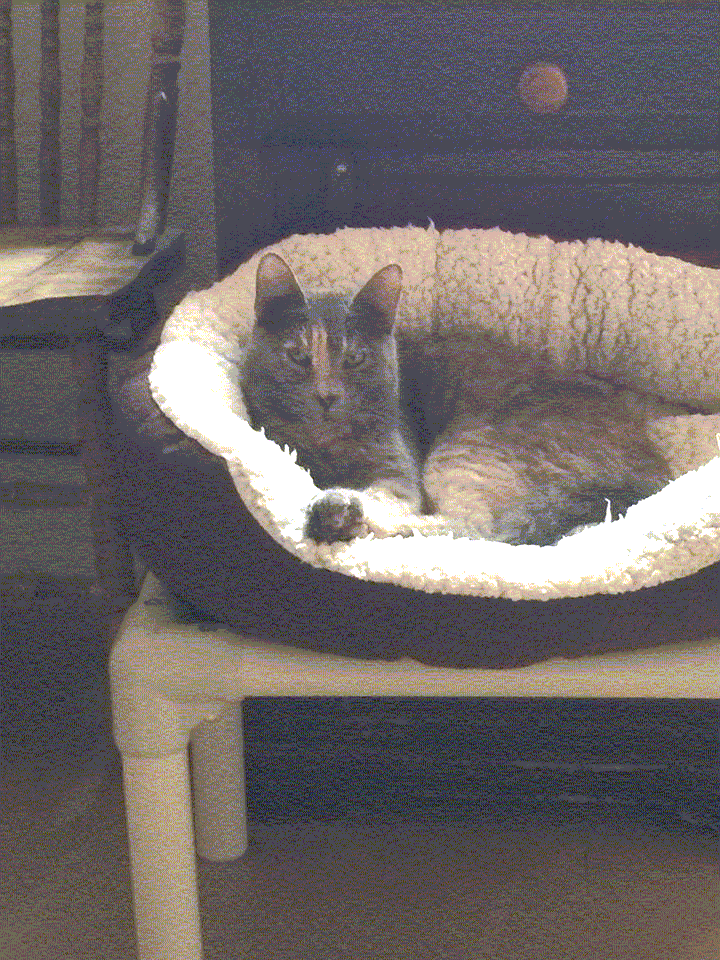 Lorchen nap
time .and
so soft.
Dec 2014
Lorchen. .Thank you Oker Geel from Funds4Cats for doing such a beautiful drawing of a lovely girl. Lorchen. Jan15
Lorchen ... birds ? Jan15
Lorchen home and keeping warm by the heater. Very sleepy and drugged with a pain patch. But she did make the rounds and said hi to Gracie .
Gracie is with her every second. Time to heal now. Jan15
Finally started to eat this afternoon. Doing well. Lorchen this am trying to eat with no teeth. She cant really figure it out yet. had to puree it and add tuna juice. Just a touch. Other wise she is playful and happy. Nice drugs....keeping her happy.
Lorchen. This is the real picture Oker Gell sent me all the way from the Netherlands. What a nice surprise. Jan15
Lorchen and Gracie as babies at rescue.
/